Barbecue. What comes to mind? Moist, succulent pork oozing out of a soft, warm bun- or- if you're blonde like me growing up in the North, grilled chicken slathered in some Jim Beam's BBQ sauce. Both are good, but the first time I had actual "barbecue" wasn't in NC, it was at home! My parents bought a slow cooker and found a recipe for pulled-pork sandwiches: A MUST TRY for college students and busy parents!
pork shoulder (we buy it already packaged from the meat section; look for 1.5-3lbs)
1 can of beer
1 apple, roughly chopped (peeled or unpeeled)
3/4 white onion, roughly chopped
6-7 peeled carrots, cut in thick slices
1 garlic clove
salt and pepper
place pork shoulder in the slow cooker. add beer, apples, onion, carrots, garlic, salt and pepper. cook on low heat for ~6 hours.
take pork out and let it cool.  remove excess fat from pork and shred with a fork. toss with a little BBQ sauce. serve atop a steamed bun
*FitBit-though pork shoulder isn't the leanest cut of meat, you're eating this in moderation. You don't need to put a lot of pork in the sandwich to taste it either- watch portion sizes and this can become a weeknight staple! It's quick, easy and filling.
Another reason being home in Pittsburgh is amazing? I get to have lunch with the greatest aunt ever! My aunt Christy and I went to a lovely lunch at Luma in Aspinwall, where I had a delicious hand-carved turkey breast sandwich with a red onion marmalade, swiss cheese and mashed avocados all between a pretzel roll-yumm! I liked that the sandwich was hardy enough to satiate me, but light enough that I didn't need to unbutton my jeans like I do on Thanksgiving after the meal. That would be quite embarrassing walking around the mall, which is where we ventured to after lunch.
I've been looking for a new pair of flats to where both casually and dressed up. Though I do love my sparkly Tom's, I thought I'd shop for a pair that people would take me seriously in (and not ask me to click my heels together). I've loved Tory Burch's Patent Caroline Ballet Flats for a long time and finally decided to splurge and treat myself! A great perk of these flats besides their cuteness? The elastic that holds your foot in the shoe; if you have narrow feet, these will hug your foot so it stays inside the shoe.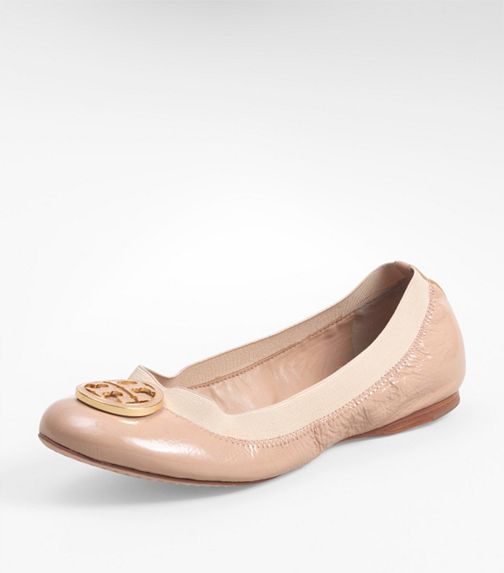 (Source)
A run around North Park ended the day. I love getting lost in my music; running feels effortless and I'm done before I know it! The sun was shining and I underestimated how could it actually was; maybe next time it's 37degrees and sunny I should still wear gloves and my ear warmer! Getting into Lola (my car) and not being able to turn it on seems to be a recurring outcome..
Back to Raleigh tomorrow! It's weird to think this could be my last trip driving to NC as an undergraduate student..feeling bitter-sweet :).